Root Canal Treatment in Highfields, Toowoomba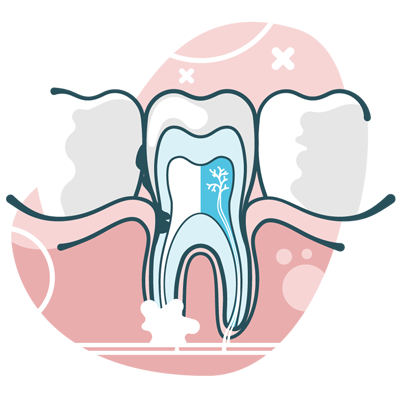 Do you have an abscessed tooth? Dental abscesses can range from completely asymptomatic to severely painful. Aside from visible swelling on your gums or darkening in the enamel, an X-ray of your tooth root may be the only way to rule out a dying nerve.
When teeth begin to die because of an infection (abscess) or trauma, steps can be taken to avoid complete removal. In this case, a root canal.
NEW PATIENTS

What is a Root Canal?
Endodontic therapy involves treating the abscessed tooth by removing the infection and dying nerve. The chamber inside of the tooth is then cleaned and sealed off to make the tooth functional again while preventing recurring infections.
Depending on which tooth it is, root canal treatments can require anywhere from 2-3 appointments or 30-90 minutes to complete.
After your root canal, our dentists recommend placing a crown over the tooth to prevent any chipping or wear. Our office also offers digital dentistry including same-day CEREC crowns, reducing the total number of appointments you need to repair your tooth.
Keeping You Comfortable
Root canal treatment is an extremely gentle procedure that can be completed with local anaesthetic (numbing medication). Since the nerve of the infected tooth is dead, it can no longer transmit pain or discomfort to the nerve tissues around it. Many of our patients fall asleep during their procedure, because of how quiet the process is.
If you have concerns about a sore jaw from opening your mouth, we can use a small bite block for you to rest your teeth on. Oral sedation is also available but rarely needed because of how gentle root canal treatment is.
Do You Need a Root Canal?
If you have a visibly abscessed, broken or dying tooth, you likely need a root canal. Reserve an exam today for a professional evaluation. Same-day emergency appointments are available. We look forward to helping you feel better.

Root Canal Treatment Highfields, Toowoomba, Gowrie Junction, Meringandan, Hampton, Kleinton QLD | (07) 4615 5971