Cleans and Checkup in Highfields, Toowoomba
Preventative dental care is the best way to avoid cavities, dental emergencies and premature tooth loss. By scheduling regular checkups for your family, our dentists can help you keep your natural teeth healthier, longer.
For most people, a preventative care appointment is recommended every six months.
What's Included?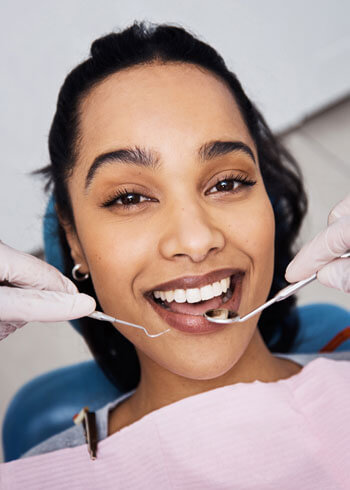 A typical checkup takes approximately 45 minutes for new patients and about half an hour for repeat patients. The dentist or oral health therapist will perform a gentle scale, polish, floss, and fluoride application. We will also provide X-rays if necessary. If you need a consultation for wisdom tooth removal or dental implant placement, we also have 3D CBCT X-ray equipment onsite.
During your visit, we will perform
Comprehensive oral exam including periodontal and oral cancer screening
Scale and clean
Complementary X-ray(s)
To keep your smile healthy, we recommend that you have your teeth cleaned at least once every six months. Our team will discuss modified ways to clean hard-to-reach areas, empowering you with the knowledge you need to keep your smile healthy between checkups.
NEW PATIENTS

Symptoms of Gum Disease
Gum disease is often characterised by bad breath and heavy tartar buildup. Other symptoms include gum recession, bleeding gums and tooth loss. During your exam, we'll screen for signs of tissue detachment and bone loss, which may not be visible without special instruments or X-rays.
By intercepting gum disease early, we can help you prevent unnecessary tooth loss or the additional health risks that come with periodontal infections. When gum therapy is necessary, a series of deep cleanings are usually recommended. From there, more frequent scale and cleans every 3-4 months can help to reduce the risk of recurring infection.
Schedule Your Checkup Today
A preventative checkup and cleaning every six months can help keep your smile healthy for decades. Reserve your next visit with us today.

Cleans and Checkup Highfields, Toowoomba, Gowrie Junction, Meringandan, Hampton, Kleinton QLD | (07) 4615 5971