Dentures in Highfields, Toowoomba
Dentures are one of the most economical ways to replace your missing teeth. Especially if you're looking for a fast solution or alternative to dental implants. Our practice offers various types of denture designs to fit the needs and lifestyles of our patients.
NEW PATIENTS

Full Dentures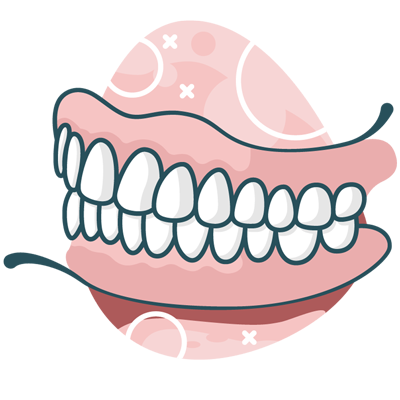 Someone who doesn't have any teeth (edentulous) may find that dentures are the most economical option for restoring their smile. Dentures contain a full set of teeth on each upper or lower prosthesis. They are typically held in place by creating a suction between the 'plate' and the roof of your mouth. However, lower dentures do not.
Partial Dentures
If you're missing some of your teeth but not all of them, a partial denture will fill in the gaps without requiring additional dental extractions.
Implant Overdentures
To establish a better fit and enhance comfort, we may recommend using 2-4 implants underneath your denture to create something to attach to. These appliances are called "overdentures" and are inserted the same way as traditional dentures. However, the clips underneath them help hold them in place throughout the day, making them easier to talk and eat especially when a lower denture is needed.
When Will I Get Used to Dentures?
It can take a few weeks or more to adjust to a new denture. Modern digital denture designs help expedite the process even more. Typically, there is a bit of a learning curve when you're getting dentures for the first time. Be sure to let us know if you have any concerns.
Denture Care and Maintenance
Remove your denture nightly and clean it with a separate toothbrush and running water. You can also use antibacterial hand soap when needed. Be sure to clean your surrounding teeth when applicable.

Dentures Highfields, Toowoomba, Gowrie Junction, Meringandan, Hampton, Kleinton QLD |
(07) 4615 5971