Dental Implants in Highfields, Toowoomba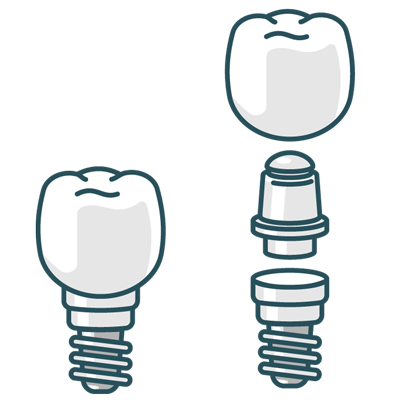 Dental implants are one of the best possible options when you need to replace a missing tooth. Implants are, by design, made to resemble natural tooth structures as close as possible. This makes them an excellent solution whether you're only missing one tooth or need to replace all of them.
In addition to implant crowns and bridges, we also offer implant overdentures, which provide a cost-effective solution for improved denture fit and stability.
Am I a Candidate for Dental Implants?
We offer complimentary consultations to determine whether or not individuals qualify for dental implant therapy, as certain criteria must be met. In addition to having dense bones, certain health complications and medication histories need to be ruled out, such as cancer treatment or taking bisphosphonates.
NEW PATIENTS

ME Dental has invested in a CBCT imaging unit, which allows us to take 3D scans of your jaw and surrounding oral anatomy, creating a map of your smile where we can assess your bone (at no additional fee). 3D imaging also ensures a minimally-invasive treatment approach that's gentler and more efficient for our dental implant patients.
Digitally guided surgery improves recovery time and dramatically reduces postoperative discomfort.
If you qualify for treatment, our care team will review the cost, timeframe, procedure and other details with you at that time. Although the failure rate for implants is extremely low, we do provide an offer of goodwill to replace your implants free of charge if complications occur.
Each implant treatment is unique and planned on a case-by-case basis. Some are completed within a couple of months while others are phased out over closer to a year.
Dental implants offer the best long-term return on investment when it comes to replacing missing teeth. When installed, your bone naturally attaches to the implant, delaying bone loss (which is common when someone has missing teeth).
From single tooth implants to fixed bridges and full-arch rehabilitation, your new implants will feel and function almost as good as natural teeth.
Reserve a Free Consultation
Book your complimentary dental implant evaluation today.

Dental Implants Highfields, Toowoomba, Gowrie Junction, Meringandan, Hampton, Kleinton QLD |
(07) 4615 5971