Clear Aligners in Highfields, Toowoomba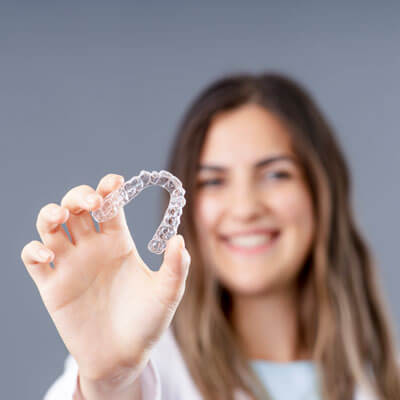 Considering an alternative to traditional braces? Clear aligner systems like Invisalign aligners and other brands are extremely predictable.
How Long Does Treatment Take?
The time required to straighten teeth will vary from one person to the next. Some clear aligners cases can be completed in a matter of 10-12 weeks, especially if only minor tooth movement or crowding is a concern. Others are more comprehensive, spaced out over 18-24 months or so. Fortunately, clear aligners are digitally mapped in advance, so we can provide you with an estimated timeframe during your evaluation process.
NEW PATIENTS

Compared to traditional bracket and wire systems, clear aligners are

Extremely discreet
Removable for eating
Easier to clean
Non-irritating to your mouth
More convenient for adults

Enjoying a straighter smile can help you feel more confident taking photos or talking to other people. But a properly aligned bite is also less susceptible to common dental problems, such as tooth decay and gum disease.

Even if you have a busy work or family schedule, fitting in shorter appointments is easier thanks to the way clear aligners work.

We also find that adults who choose to wear clear aligners typically see better final positioning of their teeth at the completion of their treatment.
Clear alignment systems use digitally-milled trays that gently push your teeth into the desired position. You wear your aligners all day, every day, only removing them during meals or when it's time to brush and floss. As you change them out with the next pair in the series, your teeth move slightly closer to their final alignment. Most pairs of aligners are worn for two weeks at a time.
Are Clear Aligners Right for You?
Discover how clear aligners can help you achieve the straighter smile you're looking for at ME Dental. Schedule you appointment today.

Clear Aligners Highfields, Toowoomba, Gowrie Junction, Meringandan, Hampton, Kleinton QLD |
(07) 4615 5971