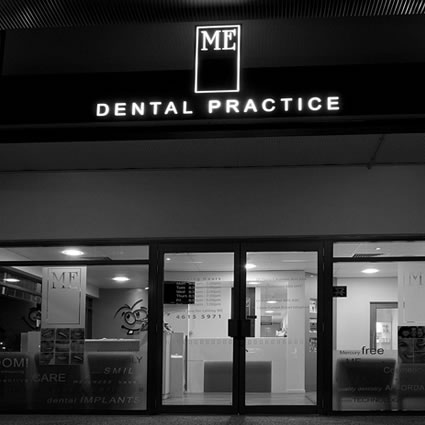 About ME Dental
ME Dental is a premier family, cosmetic and implant dentistry provider. Our boutique approach to dental care blends technology and minimalism with spa-like practices and personal connections. We are the choice dental practice for personalised, advanced care.
About Our Team
As a multi-dentist practice, we blend the best of our practitioners to offer the specific type of care you're looking for. Whether it's full mouth rehabilitation with dental implants, a smile makeover with porcelain veneers, children's checkups or flexible scheduling, our dentists can put your values first.
MEET THE DENTISTS

A Leader in Advanced Technology
Our private dental practice is the only clinic in the area with onsite CEREC and OPG technology. These resources save our patients valuable time and trips out of town by facilitating quality services under one roof.
For instance, CEREC allows us to digitally map, mill and place custom restorations like same-day dental crowns. No second appointments or temporary crowns are required.
With OPG scanning, we can view a three-dimensional model of your entire oral anatomy, rather than just using two-dimensional dental X-rays. OPG is extremely important when planning orthodontics, wisdom tooth removal, assessing implant sites and more.
Why We're Different
Our practice feels more like a boutique than a clinic. We offer special touches such as freshly brewed coffee and a warm towel after your procedure. What also makes us different is we blend experience and compassion with the best in dental technology. You'll have access to a premier level of care that you won't find elsewhere.

About ME Dental | (07) 4615 5971